What I Read in March 2016 Part II . . .
Cupcake Bakery Mysteries by Jenn McKinlay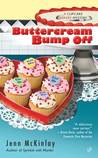 B

uttercream Bump Off (#2)
Valentine's Day is fast approaching and Mel is busier than ever, baking for the shop and teaching couples' cooking classes. She thinks this would be the perfect time for Angie to confess her feelings for Tate, but Angie is insistent he loves Mel. Mel's own relationship with Joe is going nowhere fast because he's too busy working on the biggest case of his career to stay awake long enough to move their relationship to the next level. It's bad enough Angie and Tate know this but the whole city is aware of Mel's problem. Even Mel's mother Joyce has a hot date. When Joyce chooses a new dress for the date, it gives an elderly man in the department store an angina attack. When Joyce calls to say her dress did it again, Mel thinks her mother is being silly, but it's true that her mother's date ended up floating face down in the pool. Joyce is the number one suspect, being the only person on the property at the time but Mel knows her mother didn't do it. Baxter Mallory was running a Ponzi scheme and ruined many lives. There are any number of people who wished him dead, including his own estranged son, a rock star known as "Roach." When Angie begins dating Roach, Tate goes ballistic but Mel isn't terribly worried because Angie is happy.
I liked this book for the most part. The murder happened pretty quickly and it was impossible to guess who did it since there were so many suspects. I liked seeing Mel's relationship with her mom change. This time Mel has to be the protector. It was very sweet and it was also nice to see Mel interact with her brother and his family. It was showing good character development without telling. There is a lot of dialogue about sex, if that makes you uncomfortable, it's part of the story, so you may not want to read it. I didn't care much for Angie's romance with Roach. It seemed out of character for her and the constant surveillance by Tate and her brothers crazy annoying. I also didn't love the rivalry with Olivia. It was immature and unethical to do what Mel did. On the plus side, the introduction of a new character, a septuagenarian named Marty, infuses some humor into the story. He steals every scene he's in, though at first he made me cringe because he sounded like a creepy old man. This writer is very skilled at subtle character development.
There are some cupcake recipes that sound divine! I copied them down and hope to try them.
I'm dying to continue the series now.
D

eath by the Dozen (#3)
Fairy Tale Cupcakes is busier than ever and Mel and Angie have entered the pastry competition at the Scottsdale Food Festival. They're determined to beat Olivia Pluckett and bring more customers to their shop. First they must practice baking with "mystery" ingredients chosen by Tate and bake within the time limit. While testing cupcakes, Mel's mentor, Vic Mazzotta, barges in with his usual caustic remarks and nails the mystery ingredient. Though he has a reputation for being harsh, Vic was kind to Mel when her father died and encouraged Mel not to drop out of school. She owes her career to him and values his friendship, which is why she's horribly upset and enraged when Vic is found dead in a walk-in freezer at the Food Festival. She's determined to keep going and get to the bottom of the mystery. Meanwhile, her relationship with Joe is heating up and he's thinking future. She's trying not to panic! She also becomes the adoring "mom" of a stray kitten named Captain Jack. Also, they need someone to run the shop while they're away and hire an intern named Oz, a goth youth who proves more than able to handle anything that comes his way.
This book takes a little darker, more sad tone with the murder because it's personal to Mel. Everyone else saw Vic as an arrogant, rude man who always talked up his secret ingredient and never shared. Two of the judges have a history with him and neither of them are likable. The celebrity chefs are completely full of themselves. Vic's girlfriend, Jordan, a wannabe celebrity, irritates Mel and would irritate me too but for no real reason. She isn't in the story much but was on my suspect list. I had a list of 7 suspects and ended up one step ahead of Mel in figuring out the mystery. I wasn't positive but I had a good guess as to who did Vic in. It turned out to be more complicated than I thought. I enjoyed that because it made the story better than average. I also liked the unconventional confrontation. I couldn't put the book down once a crucial plot point occurred after the murder.
I didn't like Angie very much in this story. She's still dating Roach and hasn't decided if she's going to move to LA to be with him, yet she's still obviously in love with Tate. She acts immature and lets her temper get the better of her every time she gets mad. I find it hard to believe she was a teacher! However, I was shocked and upset by what happened to her in this book just as much as Mel and Tate and the DeLauras were.
I was worried I was going to find Mel annoying now she's with Joe. Every time it seems like she's going to fall victim to plot devices, she's pulled back from the abyss by some good insight. I really liked this about her character. I admire her in sticking up for her friend and how she helped Oz.
Oz was an unexpected delight. He dresses goth but he is a big marshmallow inside. His character development is really good.
I love this series and I'm already part way into the next one and have book 5 on old at the library!
R

ed Velvet Revenge

Fairy Tale Cupcakes has a new cupcake van and a new friend. Slim Hazard, the owner of the biggest rodeo show, invites the shop to come and sell cupcakes at the rodeo in northern Arizona. Since it's hotter than hot in Scottsdale and business is dead, Mel readily agrees. Tate, Marty and Oz all want to tag along but Angie has been invited to LA to see Roach. Angie insists on going to the rodeo. The rodeo gets off to a rough start when Slim is shot at the opening parade. He's wounded and the sheriff insists it was a wild shot from some over-excited person in the crowd, but Mel isn't so sure. Then the Barbecue boys next to them ridicule the cupcake business, so Mel and Angie make a friendly wager- whoever has the least sales has to don the other business's embarrassing uniform. When the biggest rodeo star, Ty Stokes winds up dead, Mel is convinced there is a link between Slim being shot and the rodeo star's death and thinks Slim's vegan, Hollywood star-wannabe daughter Shelby is involved. Shelby throws Oz under the bus and Mel goes into Mama bear mode to protect her protégé. Though Mel's loved ones tell her to stay out of trouble, she wants to solve the mystery. Can she do it before anyone else gets hurt?

I didn't really care for the rodeo setting. Though it was different and made the story more unique, I found the setting too masculine and too chauvinistic for me. I think I would end up wanting to fight like Angie. I could not figure out who the murderer was. I wasn't entirely surprised though and I wasn't entirely surprised by the revelation, but I had guessed wrong a few times before that. It's different and adds some more depth to the story. I hated the love triangle plot. It was unnecessary and I wish the three could just be friends and prove Harry wrong - men and women CAN be friends without sex getting in the way. I think they need to quote that movie more often! I also disliked that the story ends in kind of a cliffhanger.

Mel continues to be an appealing character. So often in these mysteries, the heroine never learns anything and the stories follow the same formula. Mel is able to think on her feet and get creative when the going gets tough. I really enjoyed that and seeing her try something new. Her young protégé, Oz, is growing on me. He's a fabulous baker and moving beyond protégé to becoming nearly as good a baker as Me. I think he'll be ready for his own business in a few years. He's creative and has a kind heart. Marty appears again here, searching for a new lady love and providing comic relief.

I really liked the new characters, with the exception of arrogant, rude Ty and Shelby. Slim is a nice man and a good father. He's built his business avoiding animal cruelty, which I appreciate. His wife Tammy seems nice and his daughter Lily is strong enough and brave enough to compete in the male-dominated sport. I admire her a lot. It's hard to believe Shelby is related. She's so obnoxious and spoiled. I especially loved Ruth at the diner and how Mel was able to appreciate Ruth's baking without jealousy or rivalry. Her relationship with her husband is wonderful and very sweet. All those characters felt very realistic.

This book includes recipes for Mel's French Toast cupcake, cake pops and vegan cupcakes. Another great entry in this series and I can't wait to read the 5th mystery on it's way to my library for me.