What I Read in April 2016 Part II . . .
Cupcake Bakery Mysteries by Jenn McKinlay
G

oing, Going, Ganache (#5)
Melanie Cooper and Angie deLaura are trying to bring some publicity to Fairy Tale Cupcakes in the form of a photo shoot for Southwest Style magazine. If only the shoot didn't involve high heels, bouffant hair hardened with hairspray and an invasion by Olivia Puckett. Olivia's intrusion unfortunately causes Angie and Mel to get in trouble with the magazine to the tune of thousands of dollars in damage. Luckily, they have Tate to help smooth the way with the owner, Ian Hannigan. The magazine staff will come to Fairy Tale Cupcakes for cupcake boot camp to make cupcakes for a charity gala. Not everyone is cooperative. Brigit MacLeod, scary editor-in-chief only wants to run her magazine and Amy Pierson has a giant uncooperative chip on her shoulder and Features Director Sam isn't too thrilled with the idea of cupcakes. He's more used to writing exposes of the rich and famous. When Sam ends up dead outside the baker, Mel is convinced it's one of her boot camp participants, but which one and why? Meanwhile, Tate is acting strange just as he and Angie are about to finally realize their feelings and Mel's boyfriend Joe wants to get married soon! Mel has to find the killer before she loses her bakery or worse, her life. She'll deal with the rest later.
This was not the best entry in the series. I hate love triangles and relationship drama. In Mel's case her hang ups make sense given her history but I just didn't like it. The romance story ends on a cliffhanger. The Angie/Tate romance had promise but it's getting tired now. That plot has it's ups and downs. The ups were good and the downs not. The mystery plot was better but not much. I didn't really care who killed Sam or why. I never guessed who did it until the moment Mel started to put it together. I was surprised but not surprised. I knew it could not possibly be the obvious candidate but it could have been. I'm not going to spoil it. The thrilling part at the end was very dramatic. The whole thing didn't seem all that realistic. There wasn't enough baking in this novel despite the boot camp. None of the cupcakes they made sound delicious to me.
I am dying (pun intended) to see what happens next and I hope the romance plots don't drag on forever.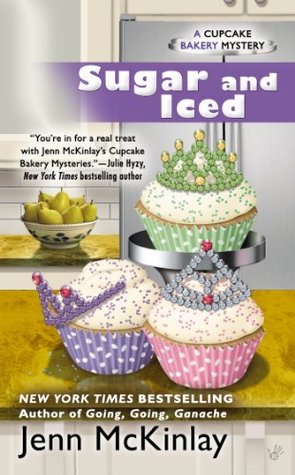 Sugar and Ice (#6)
Poor Mel Cooper is under a lot of stress. First, her love life is in the tubes because she has the willies about marrying Joe DeLaura. Now Angie and Tate are a "thing" and Marty is dating Fairy Tale Cupcakes biggest rival, Olivia Puckett. What could be worse? Well, Tate is pressuring Mel to franchise the bakery and her mother wants Fairy Tale Cupcakes to cater a beauty pageant. Mel says no but Angie thinks it will be good publicity. When Oz's friend Lupe decides to enter the contest in order to win a college scholarship she desperately needs, Mel finally agrees to do the pageant. Not only are they catering but they agree to bake cupcakes based on the contestants' recipes. (Like GAG! says Mel). When one horrid, rude judge has it out for Lupe, both Joyce Cooper and Lupe threaten the woman. When she is found dead under the cupcake table, Lupe is the #1 suspect. With other contestants trying to keep her down, this is the last thing Lupe needs. It's up to Mel to move the investigation in the RIGHT direction.
Woah the beauty pageant is just as horrible as Mel expects it to be. Some of the contestants were Ok and some had really creepy stage mothers. Brittany is totally psycho and her husband a sleazy plastic surgeon who thinks nothing of a little bribery and insulting anyone who may be a rival for his little darling's crown. I never guessed who the murderer was though. I was surprised but not totally.
The first half of the book just had too much drama for me. Mel's hang-ups drove me crazy. Why did she even start a bakery? Why not just sell at Farmer's Markets and/or do catering? I sympathize with her though because her cupcakes are her form of artistic expression and she doesn't want to ruin her reputation. Her romance hang-ups are even more weird but Charlie's answer makes a lot of sense. I hated the love triangle until towards the end and then the plot twist made me so mad! If it weren't for that, everything would have wrapped up neatly and this could have been the end.
Dark Chocolate Demise (#7)
Fairy Tale Cupcakes is about to get a whole lot creepier when they sign up to be a vendor at the Old Town zombie walk. The event will bring them lots of exposure and it appeals to Mel's creative side. When she discovers a real dead zombie bride in their prop casket, she freaks out, believing the woman to be Angie. Though the woman had the same costume and similar dark hair, she is unknown to any of the Fairy Tale staff. Angie freaks out because her brother Joe believes the murder is related to the big case he's been working on and he wants his loved ones to be safe. Stubbornly, Angie and Mel refuse to listen and are intent on solving the mystery of the zombie bride. They are convinced the death had nothing to do with Joe's case and are intent on proving it.
Wow! This story is way darker and more scary than any of the previous books. My heart stopped beating a few times! There's not enough Marty to balance out the dark and make it light and fun. There's also an annoying love triangle I can't stand. This murder could have serious consequences and I wanted to slap Angie and Mel for not taking it seriously. It scared me enough that I would have listened. I figured out WHO but not WHY before Mel did. It was fairly obvious at that point but I was surprised at the reveal. There are some interesting twists to this plot. The ending was cute and I am satisfied if the series ends up canceled or is done.
The new characters are all really weird. The hipster zombie walk organizer is crazy. The verdict is out on the paranormal obsessed kids. They may just watch too much TV. Tucci is one scary dude but WHY oh WHY WHY does the story have to involve an Italian-American mobster? Please can we get away from stereotypes? Thank goodness this series has Angie and the DeLauras. However, most of her brothers are really stupid. They should move to my state where "you gotta know a guy" is the name of the game.