What I Read in June 2015 Part III ...
The Ghost and Mrs. Mewer by Krista Davis --Contemporary Cozy Mystery

This second book in the series picks up a month later with Holly settling in to her new life in Wagtail with Trixie and Twinkletoes. The animals are glad to be back and make new friends with the inn guests- both 4 legged and 2 legged. It's almost Howloween and Wagtail is pulling out all the stops. A group of ghost hunters, the Apparition Apprehenders, have come to town to investigate the old hotel along with Eva, a university professor and professional paranormal skeptic 9and her cat, Mrs. Mewer). Also tagging along is Mallory, the girlfriend of Mark, one of the Apparition Apprehenders. Holly isn't the only one returning to her roots. Clementine Wiggins, Holly's childhood friend, has returned newly divorced with triplets in tow. Clementine seems nervous and upset about something but she won't confide in Holly except that she has a stalker. Holly and Trixie will try to help. On the eve of Howloween, Holly discovers a young woman, dressed as a local ghost, drowned in shallow water. Zelda was one of the last people to see the woman alive but Holly knows in her heart Zelda is not a murderer. That leaves one of the inn guests. Is one of them a murderer or was the death an accident like Doc insists? Officer Dave Quinlan is convinced it's murder and Holly does too. Holly is also trying to get to the bottom of the mystery of some so-called hauntings at the inn and around town. She refuses to believe there are actual ghosts but the evidence points to something supernatural going on.

This second book is much better than the first. The mystery is engaging from the start. I stayed up too late at night reading two nights in a row because I just couldn't put the book down.There's not just the murder mystery but the mystery of the ghosts. I was intrigued by the ghost hunting group and I especially liked Eva, being a skeptic myself. I keep an open mind about such things and I liked how the paranormal aspect was worked into the story to please skeptics and believers. (If you're a hard core believer skip the part where Eva shows Holly the flashlight trick). The murder mystery was a little complicated. I never guessed who did it or why. It kept me guessing to the end. There was also a mystery connected to Clementine Wiggins that was not as interesting. I knew right away the thing she would never sell. It was SO obvious. As always I loved the setting.

The animals are fully integrated into the town and the story. I'm not a cat person but I liked Mrs. Mewer and Twinkletoes together. They added some lightness to the plot. Trixie is her usual adorable self. She's my favorite character. The author really knows her terriers. She also get bonus points for knowing what breed Toto is. I just loved the fact Wagtail has trick or treating for animals.

The human characters are not quite as charming as the animals. I still really like Holly and her relationships with the men in her life. She doesn't turn into a lovesick idiot or throw herself at an unavailable man. She also doesn't settle. My second favorite human was Eva. She's logical and level headed. She uses science to explain the ghost hunting techniques. I didn't really like her relationship drama. It seemed at odds with her personality. The men didn't really stand out to me. I had a hard time remembering who each was. Of course sweet Felix was my favorite. I didn't really like any of the others. They were too eager to see ghosts and some were kind of jerks.

This is the second book in the series but can be read as a stand alone. It's a great read for cozy mystery lovers and animal lovers. I can't wait for the third book due in December.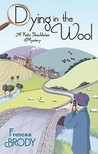 D

ying In the Wool by Frances Brody--Historical Cozy Mystery
Kate Shackleton has spent her widowed years since the Great War solving mysteries for friends and family like locating missing soldiers. She hasn't given up hope that one day she will find her husband, Gerald. Then a fellow VAD Tabitha comes to Kate offering to pay her to find Tabitha's father before Tabitha's wedding in a few weeks. Tabitha has a feeling that her wedding can not go on without her father. She knows in her heart that he can not be dead. Kate only has a few weeks to solve the mystery and a family commitment in between. She takes on an ex-policeman, Sykes, to help her investigate. Her search brings her to the mill town of Bridgestead where Tabitha's father Joshua, her mother Evelyn and Uncle Neville Stoddard, Tabitha and her brother sat on the mill board. Everything changed when Tabitha's brother was killed in the war. Tabitha's father couldn't stand his loss and tried to drown himself, or so they say. As Kate starts her investigation she realizes that someone or more than one person is not being fully honest with her. Before she gets a chance to ask questions of a key person, that person dies in a freak accident - or was it an accident? One death indicates an accident but a second raises Kate's suspicions that someone is trying to stop her investigation. Can she solve the mystery in time?
This complicated mystery takes a long time to really get interesting. I wasn't too engaged until a third of the way in and then I couldn't put it down. There are so many complicated plot twists in this story that I found it impossible to guess what actually had happened. I had my own theory at the outset and was completely wrong. The descriptions of murder victims are a little grizzy and the story is not a good one to read before going to sleep. There's also two somewhat graphic love scenes that come out of thin air in a flashback sequence. That part of the plot made no sense and complicated the already complicated story. WWI plays a large role in the story. It affected the lives of so many families and left a generation of women without partners. This gives the story an extra layer as the women learn to cope without their male contemporaries and readjust to civilian life. They lived through a terrible time and it shaped the characters' personalities and interests.
I liked Kate well enough. She's an independent modern (for the 1920s) woman who prefers to live independently and forge her own path in life. She's close to her family but prefers to keep her distance from her mother, something I can relate to.She's also interested in photography as more than a hobby which was unusual for a woman at that time but not unheard of so it's not an anachronism. She's analytical but also compassionate. She made a couple of stupid mistakes at the end which knocked her down a peg or two in my opinion.
None of the other characters are remotely likeable and that includes Tabitha. While Kate is comfortable with who she is and accepts the tragedies of war, Tabitha is the opposite. I hated that Tabitha felt self-conscious in front of her younger fiance and vice versa. I hated that she felt she had to change who she was to make herself seem younger. She's naive in some ways though, despite what she saw during the war. She's blind to anything but what she wants to see. I lost interest in her pretty quickly and disliked the way she reacted to the reveal, though her feelings were understandable, what follows between Kate and Tabitha is terrible. Sykes is a somewhat appealing character but I think he is probably more cunning and maybe a bit cruel or bloodthirsty than he lets on. Mrs. Sugden, Kate's landlady, adds some humor to the story but she's not in it much. The only character I felt any empathy for was Marjorie Wilson, and her dog Charlie.
A

Woman Unknown by Frances Brody--Historical Cozy Mystery
Deidre Fitzpatrick's husband enlists the aid of Sykes and Kate to find out where his wife goes when she says she's visiting her sick mother. Because she was involved in shoplifting awhile ago and Sykes bailed her out, Sykes feels the case is personal and convinces Kate to help. Deidre has secretly taken a job with a solicitor, for personal reasons. She is the perfect "woman unknown" to spend nights at a hotel with married men whose wives are divorcing them. This particular case, a well known banker named Everett Runcie, feels wrong. Everett is a womanizer and Deidre has remained faithful to her husband and her Catholic beliefs. She stumbles drunkenly into bed while her companion socializes downstairs. When she wakes up in the morning, she discovers her companion lying cold and breathless in bed. Terrified, she takes off. Kate feels Scotland Yard isn't on the right trail of the missing woman. Even her friend Marcus dismisses her because she's a woman. Kate decides on a battle of the sexes and heads out to do some investigating alone. When Phillipa Runcie pays Kate to investigate her husband's death, the hunt is on. It turns out that a lot of people are looking for Deidre. There's Scotland Yard who is already on the trail of her American-raised gangster brother; there's also Runcie's wife, Phillipa; mistress, Caroline and of course Deidre's faithful husband.
I liked this book better than the first one in the series. The mystery is less complicated and the red herrings are excellently placed so I never guessed whodunnit. I speed read through the book as it is overdue at the library but my impression was largely favorable. I liked Kate better in this book because she's more sensitive. She still tells the story in a cold, detached way for the most part and she's still carrying a flame for her husband, missing since the war. There's not really any comic relief in this story. The plot moves quickly but the falling action is too long and irrelevant. It seems like the author was tying up loose ends before ending the series. The book stands alone for the most part, despite mentions of previous cases and the new characters who appear.
The most sympathetic character in the story is Deidre. She has had nothing but trouble her whole life and just when she sees a way out, she finds herself stuck in a boring rut. She experiences a lot of horrible things in one weekend and it's no wonder she disappeared. I liked her though I didn't like her occupation. I liked that she was Catholic because it tells the reader some historical background on how Catholics were perceived and gives a glimpse of a pre-Vatican II Requiem Mass which I found interesting. The next most sympathetic character is Phillipa, the American heiress who traded her money for an aristocratic marriage. She has experienced nothing but pain and humiliation for years while her philandering husband charms his way into everyone's bed but hers. Caroline, the Viking Warrior, is either sympathetic or not depending how you look at what she's done. I don't really feel that bad for her because she made her choice again and again, getting hurt in the process. She chose to live that life yet she has none of the benefits Philippa has while still suffering pain and humiliation. I found myself rather liking her at the end.
There are a bunch of male characters I didn't like, starting with Cyril Fitzpatrick. He was a strange sort of man and I didn't really warm up to him, probably because the story is told partly from Deidre's point-of-view and partly because I didn't trust him. Lou Diamond, a tabloid photographer is someone Kate admires for his art but he's basically a sleazy 1930s paparazzo and I knew what he was up to as soon as Kate thought it but wanted to deny it. His story was a bit of a surprise though. Then there's Deidre's brother, Anthony Hartigan, who is supposedly on the FBI's most wanted list and possibly Scotland Yard's too. He seems nice enough the little he's in the story. We don't really know whether the rumors and suppositions are true. Mr. Gregory King, Phillipa's secretary creeped me out. He was always there and always getting information out of Kate. He claimed to have his employer's best interests at heart but did he really? The plot reveals all and surprised me. I hadn't expected his story to go in that direction. Then, there's Robert Comer, a passionate and talented sculptor whom Kate admires very much. He seems talented and kind. I liked him. His story surprised me. Finally, there's Sykes. He's a tough nut to crack but is devoted to his family and to Kate. He's rather like the devoted batmen characters who accompany Regency heroes wherever they go.