What I Read in February 2015 Part IV . . .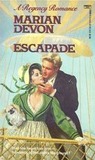 E
scapade by Marian Devon -- Regency Romance
Maria, Lady Carlton finds widowhood even more boring than her married life. She's forced to listen to her sister-in-law's complaints and care for Jane's horrid Pekinese, Horatio. She dreams of adventure and attends a balloon launch to see her idol, Madame Blanchard. When some English gentlemen get up to drunken revelry at the launch, it has consequences for Maria. Soon she finds herself in a balloon with the notorious (and drunk) Lord Brett with only Horatio for a chaperone. Lord Brett decides to seize the day when he fears he's about to die and kisses Maria. She is horrified at his actions and even more shocked when an accident forces them to hole up at an inn together with no money and a horrid blackmailer sniffing around for a story. He no more believes she is Madame Blanchard as she claims than Horatio can fly. Lord Brett comes up with an obvious solution, much to Maria's dismay which leads to more unintended consequences.
This is not my favorite Marian Devon book. I couldn't stand the hero. He's a rakehell with few scruples. He stops short of libertine but I disliked his behavior. He's drunk when he meets Maria and takes advantage of her all while claiming he's trying to protect her reputation. Even the obvious at the end doesn't make me like him any better. He's cowardly also and makes light of serious situations. He has a few redeeming qualities but overall I just didn't like him. I did like Maria. She's sensible and puts up with a lot from Lord Brett. The plot moves pretty quickly and has some funny moments and tender moments. I just didn't like Brett enough to buy into the romance. Though he's a rakehell the romance is limited to kisses only and a few mentions of naked bodies and many mentions of "the merchant Venus" and mistresses, illegitimate children. There's a little bit of violence, completely justified and handled with humor.
T

he Ardent Suitor by Marian Lorraine-- Regency romance
Andrea and Andrew (Andy and Drew) are twins and the best of friends and complete opposites. They reflect the best/worst sides of each other and are each other's harshest critics. When Drew's friend David Newbury, Duke of Kensington lets it be known he's on the hunt for a wife, Drew suggests his younger half-sister Chloe. Chloe is a sweet innocent and Andrea is incensed that her brother would suggest such a thing. That would be the very situation their lovely stepmother, Lady Jane, found herself in when she married the twins' father. Like David, their father was a well-known rake and Lady Jane was humiliated and retired from society. Andrea will die before she sees that happen to her sweet little sister. Chloe also has growing feelings for their neighbor, Jonathan, who is in love with her. When Andrew returns to the army of Occupation and David comes to visit, sparks fly. Chloe is a lovely girl but downright dull compared to her sister who makes David's blood boil in more way than one. He sets out on a scheme to make his little witch marry him - with possible disastrous consequences.
This story was written in the vein of Georgette Heyer. There's a lot of period slang and historic detail. However, the author was not as meticulous and the editor was blind. (is the stepmother's name Ladyjane or Lady Jane and who calls their much loved stepmother Lady anything?) My quibbles with the accuracy are minor: Unmarried ladies and gentlemen did not correspond and could not be friends; a lady who participated in a shooting contest would be beyond the pale and no Duke would ever ask a girl to call him by his first name. That being said, the story wasn't that bad. Andrea's rants got tiring and repetitive after awhile, especially once David proved time and again he has reformed. I wanted to yell at her to shut up. At the same time, I sympathized with her and saw my own temper staring back at me. I know I would act the same way in the same situation. David's pursuit of Andrea also got on my nerves. It went on too long and he was too persistent. There's such a thing as NO meaning no, even in the Regency era.
The characters are OK but none truly memorable. Andrea is firebrand and tomboy. She's a modern woman in a 19th century setting. David, once he reforms, is also hot tempered at times and stubborn to a fault. Even though Andrea did truly love him, I think he rushed things too much and should have SHOWN her what a nice guy he is. Instead he went around courting her sister and arguing with her. It was badly done. Andrew is downright annoying and Chloe is a lovely widgeon, much like Charis in Georgette Heyer's Frederica. Some of the secondary characters had potential, especially David's foppish cousin who came straight out of the Heyer book of best friends.
The book isn't worth tracking down but if you come across it for free, then it's worth checking out if you like couples who fight all the time.
A

Rake's Reform by Anne Barbour -- Regency Romance
Charles Trent, Earl of Bythorne, is in a pickle. His young ward Chloe has run off to who knows where with whom. The clues point to Hester Blayne, a firebrand feminist writer and speaker who seems to have influenced Chloe into refusing the suit of the respectable man Thorne had picked out for her. Chloe wants nothing to do with marriage, wanting instead to devote herself to the cause of women's rights. After a fiery clash with Hester, Thorne sees reason and invites Hester into his home to take charge of Chloe and convince her to marry. Enter the home of the notorious rake The Earl of Bythorne - NEVER! Except that the sum he offers would solve a number of problems for Hester and allow her to participate in the intellectual circles in London. It's only for a short time after all and of course she need not have much to do with Thorne. Hester is forced into entering the world of the ton and into spending time with Thorne while he wishes to be in the bed of one of his inamoratas. Though his kisses set fire to her body, she knows it's just physical attraction and that a rake like Thorne would never marry for love. Some day soon he'll offer for his promised bride, Lady Barbara Freemantle in a marriage of convenience. Hester believes Barbara's feelings lie elsewhere and Hester feels sorry for the other woman. Thorne's aunt is busy playing matchmaker for Hester and Chole is busy being stubborn. Nothing is happening as it should and worse - Hester finds herself falling for the notorious rake.
I had a lot of problems with this story. I usually like a good reformed rake plot but not this one. The hero reforms too late and I don't believe he's sincere. The plot is very slow and I found myself falling asleep before I was halfway through. There's too much going on in the story to make it flow smoothly. I also objected to the use of the world feminist which did not exist yet in 1817. Hester sounded too modern to be believable for the time period and there are numerous typos in the Kindle edition.
I should have known better than to read about a rake after rereading Georgette Heyer's Venetia. Thorne is no Damarel. Though Hester sees Thorne as a damaged soul, he's a lazy, good for nothing rake. He enjoys spending time in a brothel and considers dallying with a fellow peer's wife. He thinks lecherous thoughts about Hester and has no problems kissing her passionately yet denying his true feelings. I found him disgusting and unlikable.
Hester is a much better character. Hester is not opposed to marriage but opposed to arranged marriages. She believes men and women can be equals. She is dedicated to helping women and helping lower class women make a better life for themselves. I liked the way she handled Chole but I felt with the others she meddled and tried to arrange everything to suit herself and that I didn't like, but mostly I admire her a lot. I did not at all buy into her relationship with Thorne. I didn't see why she loved him.
The secondary characters are pretty poor. There's Chloe who is a spoiled, pampered teenage girl who thinks she would prefer to devote herself to the feminist cause than marry. She comes across as shallow and insincere. Her reactions are immature and get tired quickly. One scene that happened off page and was related by another character shows a different side of her which would have been good to actually see. Her suitor is dull and respectable, therefore she hates him. His character development is unbelievable but I liked him. Aunt Lavinia is a stereotypical female with vapours and is unable to control Chloe. Gussie is a stereotypical Grande Dame type who commands and expects to be obeyed. None of them are memorable.
Though the story is kisses only, it's more sensual than the author usually writes and I didn't care for it. I am glad the library had this one for free.