What I Read in June Part VII . . .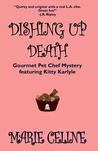 Dishing Up Death by Marie Celine -- Cozy Mystery
Kitty Karlyle is a celebrity chef, but not for humans, for their pets. She cooks and delivers gourmet meals to Los Angeles' most pampered pets. She thinks she's seen it all but when she discovers one of her clients, the former rock star Rich Evan, has been found face down in his puppy's food, she's shocked. She's even more shocked when she learns Rich has died and she's the chief suspect! She knows she didn't murder anyone on purpose, but what if she was accidentally responsible by cooking poisoned food? With her friend Velma as sidekick, she tries to find out what really happened. She tries to stay a step ahead of the annoying detective who keeps insisting he's going to marry her. Ironically, business is booming as Rich's best friend and ex-wife become clients and plan to recommend her. Can Kitty solve the mystery before she finds herself behind bars?
I really wanted to like this book. I loved the idea of a gourmet pet chef. I love animals just as much as Kitty and was excited to see her recipes, but she clearly doesn't love them as much as I do because she doesn't seem to know that many cats and dogs can't tolerate dairy and grapes and onions can cause liver damage. Kitty is the perky, perfect girl you love to hate. My feelings didn't go that far because she does love animals, but I found her a little too naive and a little too perky to be truly sympathetic. She wants to believe the best in everyone. The animals were much better characters, especially the puppy Benny. Her best friend Velma is an odd character. I couldn't quite like her either but I appreciated how she had her best friend's back. All of the secondary characters are stereotypes. All of the men are disgusting pigs, even the detective who I could not stand.
This book is a first novel and it reads like one. The writing is simplistic and not very good. The plot is downright dreadful. The story is full of dated 90s references. They're subtle but it's surprising how much technology has changed. (i.e. leaving a message on an answering machine). I liked the inclusion of a research librarian using microfilm instead of Google but that actually dates the story a bit too. The characters all seem to accept the sex, drugs and rock n' roll culture of LA. One character is a sexual predator who nearly rapes the heroine and it's glossed over! She didn't even think to tell the police and apparently it's OK for a male rock star to trick a girl into sleeping with him. He is a downright nasty character. The mystery is impossible to figure out. It goes somewhere random that I never expected. Plot points don't exactly come together and the end is very rushed. I filed this under clean romance because there's some weird random romantic plots tossed in at the end for no real reason.
I wouldn't recommend this book to anyone who likes good literature.