What I Read This Weekend . . .
Lady in Green by Barbara Metzger -- Regency Romance
Annalise Avery is grateful for her recovery from brain fever. Though she has a long way to go before she's healthy, she is eager to begin planning her wedding to her neighbor Barbaby Coombes. When she overhears her stepfather Sir Vernon and Barnaby discussing how they plan to use HER fortune (on themselves, naturally, and on women), Annalise is furious. How dare Barney plan to set up a mistress with her money? Annalise declares she'll marry for love or not at all. Sir Vernon has other plans far more dastardly and Annalise has no choice but to run away. Accompanied by her old nanny, Henny and Henny's husband Rob, a former highwayman, Annalise heads off to London to stay with her estranged Aunt Rosalind. Aunt Ros is off to Vienna with her "friend" Lord Eliphinstone and the house has been rented by one Lord Gardiner. Ross Montclaire, Sixth Earl of Gardnier aka "Lord En Garde" has had it with his mother's meddling in his life. He wants nothing to do with the simpering debutantes his mother throws his way or with his mother's scolding about how he lives his life. Renting Lord Eliphineston'e house is the perfect solution. There he can set up his paramores and enjoy himself without his mother interfering. He hasn't counted on the strange scruples of his housekeeper, the hideous hag Mrs. Annie Lee! Outraged at Gard's rakish ways, Annalise tries to drive him away with one trick after another. During the day she rides heavily veiled in the park wearing her green riding habit. All the men want to make her an improper proposal but Gard decides to offer his innocent (for now) protection. Will Annalise succumb to Lord En Garde's charms? Will Gard finally lose his heart at last? Not if Annalise's uncle has his way...
I really disliked this book. Annalise declares she's learned more about debauchery in one week than in all of her 21 years. That comment summarizes the book nicely. The plot hinges on Gard's amorous exploits and the author is not shy about making her hero a womanizer to the nth degree. He's not content with one woman the way most heroes are, he must have a woman in his bed every night. He claims to be fastidious but he isn't really all that choosy, as long as she seems clean, isn't an innocent or well-born young lady. Married women, actresses, widows, random females, they all parade in and out of the house. I admit that "Annie's" attempts to scare off the women are funny. The methods she uses are clever and cause a lot of gossip among the ton. My favorite part of Barbara Metzger's novels is usually the dog, but he only appears at the beginning and at the end briefly. The hero and heroine don't have any good basis for a long-term relationship. He is fundamentally a nice person aside from his womanizing and I can see why she would be attracted to him. He doesn't really know her though at all and she lies to him throughout the book. It took me a few days to finish this book and only then because I almost never leave a book unfinished and because I paid for this one. (75 cents but still...). I would not recommend it.
Daddy Long-Legs by Jean Webster -- Young Adult Historical Fiction/Classic
This classic novel, first published in 1912, has long been a favorite of tween girls. It tells the story of Jerusha Abbott, an orphan living in a foundling home. She's 16, two years past the age when most orphans are turned out into the world. She's bright and well-educated and much to her surprise, one of the trustees feels she shows promise as an author and plans to pay for her to go to college. The conditions being: 1. She doesn't know his name; 2. She writes a letter once a month on her educational progress without expecting a reply back and 3. She do credit to the orphanage and make her sponsor proud. The novel consists of Jerusha aka Judy's letters from college. She's very observant and relates her joy and excitement about finally leaving the orphanage and going out into the world. She's very naive about the things other girls know (popular culture) but she works hard and enjoys having friends for the first time. She grows from an eager child into an accommplished young woman sure of her place in the world over the four years. She learns a lot about life and love and what it will take to make her truly happy. In the tradition of Anne of Green Gables and Rebecca of Sunnybrook Farm, this book is charming. I know I read it at least once as a child but all I could remember was the basic plot outline and the ending, which I didn't like. I think I liked the book even MORE now I am an adult. I liked reading about Jerusha's coming of age. She is a fun character and I think she would be a good friend. She would definitely get along with Anne Shirley! I especially liked how she insisted on making her own way in the world and considered Daddy Long-Legs as a temporary benefactor. She refused to be controlled by anyone and learned to make up her own mind about what she wants. The story is charmingly illustrated with sketches by Jerusha/Judy. She's not a very good artist but she knows it and is able to poke fun at her own drawings. These sketches added to the sweet charm of the novel. The ending came as a shock to my younger self but this time I figured it out right away and was surprised Jerusha didn't. I really liked this story and I recommend it to those who love Anne, Rebecca, Pollyanna and other girls' books of the period. I hope to explore the author's other books too. This edition is illustrated with scenes from the 1914 play.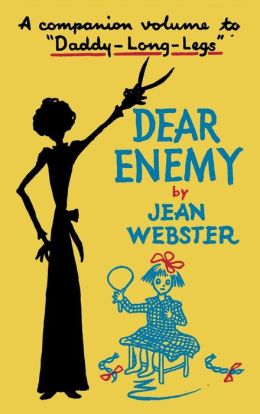 Dear Enemy
by Jean Webster-- Young Adult Historical Fiction/Classic
In this sequel to Daddy Long-Legs, Judy Abbott is happily married to Jervis Pendleton and following him wherever he goes on business. He has taken over as chief trustee of the John Grier Home and Judy wants her friend Sallie McBride to take over as superintendent. At first Sallie rejects the idea, being a frivolous socialite, but when her wealthy politician suitor laughs at the idea of Sallie taking care of 100 orphans, she decides to take on the challenge. She's appalled at the conditions in which her dear friend grew up and sets about trying to reform the institution from the inside out. First, her orphans need love and care; then good food and exercise; then be taught how to handle the real world for their futures; next new clothes and finally, a new building system. It's a huge task and Sallie feels overwhelmed and threatens to leave as soon as a new suitable superintendent can be found. She butts heads with a wealthy trustee and makes an enemy in the orphanage doctor, Robin MacRae, whom Sallie nicknames Sandy. "Sandy" is a dour Scotsman who wants to help the orphans but clashes with Sallie at every turn. Sally writes lengthy letters to Judy on the progress of her reforms and shorter messages to her enemy, Dr. MacRae. I found this book less charming than Daddy Long-Legs. It's written for an older audience and one particularly acquainted with the psychology of the 1910s. Some of the anecdotes about the orphans are amusing and others will break your heart. There's a lot of discussion about eugenics, hereditary traits and "weeding out" those undesirables such as the feeble minded. Though Sallie takes a slightly different attitude and loves her orphans, the theories and practices of the early 20th century seem shocking and cruel by today's standards. Some of her kinder methods are very similar to the methods Anne Shirley intends to use with her students in Anne of Avonlea. The love story plot develops very slowly and only comes together in the end in a very rushed and random way. It seems obvious to those who know and love Anne and Gilbert and Lizzie and Darcy but it's not obvious enough for my tastes. This book, like Daddy Long-Legs contains cute drawings by Sallie (Jean Webster) of the orphans and her adventures in the John Grier home. I liked catching up with Judy and Jervis but they have become very two-dimensional and aren't really a part of this story. This book is a mixed bag for me. If you can understand and accept the attitudes of the period in which it was written, you might enjoy the story.