What I Read This Weekend . . .
An Early Engagement by Barbara Metzger -- Regency Romance
Lady Emilyann Arcott and Viscount Stokley were engaged on Emilyann's christening day, shortly after the death of her Mama. The Duke waished to protect his precious only daughter, an heiress, from his scoundrel brother. Stokley's Papa From then on, Emilyann became Stokley's to cherish and treasure. From climbing trees to fishing and other unladylike pursuits, Emilyann followed her beloved "Smokey" anywhere. Before Emilyann is old enough to come out, her Papa unexpectedly dies leaving her a fortune and in the care of her ne'er do well uncle, his Puritanical wife and her idiotish son Bobo. When Emilyann's uncle threatens to marry her to Bobo, Emilyann knows she needs to escape but where and how? Smoky is off fighting the French with Wellington and who knows when or if he'll return. As luck would have it, Emilyann learns from Smokey's younger brother Geoffrey that Stokley is in London at that very moment. Emilyann runs off to her Smokey who promises to help. Emilyann adds the condition that after Stokley returns from the wars they can get a quiet annulment. Stokley agrees with the condition that Emilyann not spend her fortune on his run down estate. Never one to listen, Emilyann does exactly as she pleases. Emilyann, Geoffrey and his silly sister Nadine head off to London to take the ton by storm. When news of his wife's social success reaches Stokley in Brussels, he dashes off to London to take control of his family. Instead of the parcel of unruly children he expects to find, he discovers his wife is a lively, confident, caring, beautiful woman and he wants nothing to do with any annulments! Emilyann is a bit unsure of her husband so Stokley sets out to woo her. A series of unusual accidents makes Stokley reluctant to leave his bride's side. Alas, Napoleon is on the run and it's back to war for the young Earl. Will he ever win his bride? Will Emilyann ever get to cherish her hero as he has cherished her all these years? Not if Emilyann's uncle has anything to say about it. This story is vastly different from the usual marriage of convenience plot. Most of the book is dedicated to exposition. The exposition is cute and funny at times but goes on too long. The subplot involving Emilyann's uncle and his family is far more entertaining. For all he's a villain, her uncle is a comic villain. His wife, Ingrid, and stepson Bobo provide a lot of the humor in the story. Stokley's aunt and sister also contribute to the comedic aspects of the plot. Since the exposition is long, the story feels really long and doesn't have much time to develop the relationship. Emilyann is very young, spoiled and headstrong. She grows up nicely and becomes an appealing character towards the end. Stokley is hardly in the story at all except as a minor character looking back on their childhood games and then in the last third of the novel. When Stokley appears, he's busy lusting after his bride instead of actually trying to woo her he tries to seduce her. The two are NOT the same thing. I didn't really like him much but there wasn't a lot of opportunity to get to know him. I preferred his brother Geoff. This isn't my favorite Barbara Metzger novel. It's cute and sometimes funny but the lack of relationship between the h/h turned me off. That and Pug, the dog, doesn't play a major role in the story and only appears or is mentioned in a few scenes. Lady Cheyne (My Lady Innkeeper) is mentioned in one scene but doesn't appear on page.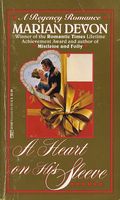 A Heart on His Sleeve by Marian Devon -- Regency Romance
Miss Emeline Sedley despairs of being stuck in the dower house on her cousin, Lord Blakley's estate. If it weren't for Blakley's selfish mother and her feud with Emmy's Grandmama, Emmy would be making her come out in London. Her mean cousin refuses to allow her to live in the manor or meet his gentlemen friends. Her only companion is her best friend Andrea Prior who is staying with Emmy while her father tries to recover his finances in France. St. Valentine's Day is fast approaching and Emmy has discovered all manor of old folk ways to find her husband. Her prayers seem to be answered when her cousin's friends come for a hunt. As much as Blake tries to keep the gentlemen away from the ladies, he is unsuccessful. He's busy having a tryst with a village woman and trying to keep his old nemesis, the radical Zach Cannon from turning the farmers against their landlord. Andrea is glad not to have to socialize with the cold and trying man who tormented her throughout childhood, but when she finds herself alone with her, he can't keep his lips off hers. Andrea's traitorous body responds to the rake's kisses but she knows he's not sincere. She would be better off going to her father in France and teaching English to French children than staying in England where she's in danger of losing her heart. By St. Valentine's Day, someone will find their ideal mate but will it be Emmy, Andrea, Blake's mother, or Blake's friends? This short novel has some potential but it never quite lives up to it's promise. Emmy is young and silly. I couldn't relate to her desire to find a husband NOW. She does some silly things which I probably would have done in my salad days though. Her judgement is not the best and she never really grows or changes. Andrea is the main character of the story and it's all from her point of view. I wish we had Blake's point of view because it would be a far more interesting story. He seems to be a superficial rake but some scenes reveal there's more to him than meets the eye. He seems to be a man of a lot of depth but it never really comes to the surface because we see him as Andrea sees him. The kissing scenes are ridiculous. There's not much else between Andrea and Blake. They don't really know each other very well and I don't see their attraction to one another beyond physical sensation. The story isn't laugh out loud funny and there are a few moments of humor but nothing really great. This is not Marian Devon's best novel.