What I Read in October Part II . .
.
Night of a Thousand Stars by Deanna Raybourn -- Historical Fiction/Romance
I'm not sure how to summarize the plot without giving it away so read at your own risk! Penelope "Poppy" Hammond can not bring herself to marry Gerald Madderly, the crushing bore her mother has chosen for her, it would be too too Victorian. Poppy hoped they could be compatible but it is not meant to be, so she leaves the church by way of the window assisted by the affable curate, Sebastian Cantrip. Along the way to her estranged father's cottage in Devon, she makes a full confession. Poppy then meets her father, Eglamour "Plum" March (Lady Julia's brother) for the first time and finds him lovely, but is bored. When she heads back to London, accompanied by her maid, Masterson, to find Sebastian and thank him properly, she discovers that all is not as it seems. Sebastian left in a hurry for the Holy Land and left a precious possession behind. Poppy feels he's in trouble and it's up to her to rescue him. She manages to find a way to get to Syria, under her real name, Poppy March, with Masterson following discreetly behind. In Syria she discovers a wild, wonderful land filled with twinkling stars and fragrant Jasmine blossoms. There's also danger afoot as the Syrians are making a bid for independence from their French rulers and a half-French Comte tries to seduce her. Then there's Hugh, her employer's valet, who makes impassioned speeches and kisses her without emotion. When Poppy is reunited with Sebastian, the adventure she has longed for finally begins. She discovers that with adventure comes danger and the passion she's always longed for.
There, I hope that summarized things properly without giving it away. The next part is telling you how I felt about this novel. It. was. amazing! I could not put it down. My favorite part of this novel is Deanna Raybourn's beautiful prose. She describes the Middle East so vividly, I can imagine away the present images of conflict in Syria to see the land the author seems to love so much. Certainly Poppy fell in love with it. I also love all the literary allusions. The title refers to Peter Pan in Kensington Gardens by J.M. Barrie. The stars play an important role in both stories. There are also Austen allusions! The heroine and hero have both read and enjoyed Miss Austen's novels. There are lots more literary references to be found here. A for literary geekiness! Then, there's the plot. There's almost non-stop adventure and intrigue that kept me turning the pages long after I was nodding off. I finally had to stop the first night but stayed up too late the second night to finish. I could not put it down. I was really shocked at some of the plot twists and surprised at how some turned out. Others I wasn't surprised at all. I pretty much figured I knew who the villain was and I was certain I knew that all was not as it seems with Sebastian, but there's plenty there to keep the story interesting. I was so happy to catch up with the Marches but sad to learn some of them are no longer living. (The story takes place in 1920, making Julia 60ish and her siblings elderly).
There's a love story here that feels a little cliched but I enjoyed it. The love scene comes at the perfect moment and is implied rather than shown. The middle of the book reads like a YA novel but then the sexual tension amps up and the action gets violent. The violence was too much for me. I learned a lot about the different cultures in Syria. There's a bit of political commentary, I tried to highlight some passages but my PC screen in finicky like that. I'll try to do it on the iPad and add them in later. It's very important to understand the political background of Syria for not only is it relevant today but it plays a huge role in the story.
[what happened to Perdita. The whole time I was thinking this is the adventure she should be having. (hide spoiler)]
The weak link in the story is the main characters, especially Poppy. Poppy is very innocent and naive. She blunders along in a dangerous situation without thinking. She's a much younger version of her Aunt Julia and more annoying. I found it hard to believe she didn't notice that not all was what it seemed with Sebastian. After all, she was told certain things, she was warned away and she refused to believe anything other than her first impression of him. Sebastian summed Poppy up nicely by comparing her to a particular Austen character. Sebastian is one of those chip-on-his-shoulder outcasts who does his very best to be noble and do the right thing. He's willing to fall on his sword for Poppy and trying his hardest to be noble and not act on his feelings. It's perfectly obvious and she doesn't see it. His high-handed actions are more typical of a Victorian man with Poppy pushing his patience to the limit. Poppy doesn't appreciate what he does for her. Sebastian isn't as swoony as Brisbane but I hope they get to meet Aunt Julia and Uncle Nicholas (now the Duke of Abadour) some day so Nicholas and Sebastian can compare notes and roll their eyes over their impetuous loves.
[She knew he had a knife and was experienced with it, he took her corset off expertly! (hide spoiler)]
The secondary characters are great. I want to know more about Rashid and Demitrius and especially the famed aviatrix. She has her own book, City of Jasmine, which I fully intend to read next.
I think that's all I can say without giving away too much.
Read this if you love Deanna Raybourn's other novels. Adult fans of The Agency series by Y.S. Lee will probably like this too.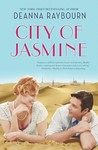 City of Jasmine by Deanna Raybourn -- Historical Fiction/Romance
Five years ago Evie married the handsome, charming, boyish Gabriel Starke after once dance. He then promptly broke her heart before dying on the Lusitania. Or did he? Evie has made her own way in the world first as a war nurse and now as a famed aviatrix. Just before setting out on one final trip in her beloved ancient plane, The Jolly Roger, she finds a mysterious photograph of Gabe in the desert she knows was taken recently. With her eccentric Aunt Dove in tow, Evie sets out for Damascus to find Gabe. When she does, she'll be sure to give him a piece of her mind and then properly divorce him as she meant to do so long ago. In Syria, she uncovers clues to her husband's whereabouts and believes he is involved in some sort of criminal activity. Together they embark on an adventure across the Syrian desert involving treasure, a thrilling chase and a deep and everlasting friendship with the Bedouin. Evie also discovers a lot of built up resentment and anger towards Gabe that she needs to work though. He's not the man she thought she married and she's not the girl she once was. She plans to stand by him and help him find this treasure he seeks and THEN she'll divorce him ... or will she?
This book is a companion to Night of a Thousand Stars. The action takes place just before Poppy winds up in the Levant. Even though I knew some of the story from Night of a Thousand Stars, I was curious enough to read this book. It's similar in plot, basically another view of the same story, but because it takes place earlier, there's a lot of political intrigue as well, which I found very interesting. Also, all the action takes place in the Badiyat ash-Sham, the great desert, is a major character in the role. The title of the novel is misleading. The descriptions in the novel of the landscape, the people and the culture are all so incredibly vivid and well-drawn. I got a better sense of the history and the setting from this novel than in the other. The author really excels as setting the scene. I liked learning all the ethnographic things that Evie liked too. The romance is fun. The bickering didn't annoy me so much because Evie had every reason to be angry and every reason to suspect Gabriel was what she thought he was. Even his name implies he's a fallen angel! There is one discreet love scene at the end but the story is PG-13. There are a few light-hearted moments to keep the story from being too dark. What I didn't like was the obvious spouting of anti-imperialist thoughts from the mouth of a well-educated British woman! I can see being anti-war after what she experienced as a nurse, and I don't know much about the post-WWI generation, but I would think she would be for King and Country, etc, etc. I also felt that the story didn't grab me and make my heart pound, I suppose because I already knew the outcome.
Aside from that possible inaccuracy, I really loved Evie. She's had a tough life and has finally come into her own and discovered who she is and what she wants. She still has some growing to do, which makes the story fun. I like how she grows and completely becomes a woman. Gabe is a bit too brooding for me. He's another poor little rich boy who longed for adventure. He has a lot of growing up to do, even in this story. He's had a rough couple of years too and is mature for his age, but still young and trying to figure out who he is. I didn't exactly find him romantic, or what he did noble, but I loved him for his convictions and for doing the right thing by his friends. My favorite characters are Aunt Dove, the eccentric Victorian lady traveler and Hector, her parrot. They add some levity to the story and I admire Aunt Dove for being her own person though she's a bit scandalous.
I really enjoyed this novel. It works as a stand-alone or part of a trilogy that includes Whisper of Jasmine and Night of a Thousand Stars. It is also related to Spear of Summer Grass