P

rofessor Amanda Vickery
I finally had a chance to browse YouTube to see some wonderful documentaries hosted by Professor Amanda Vickery.
At Home With the Georgians
This documentary supplements Professor Vickery's book. She takes the viewer on a trip through Georgian era homes and explains the importance of home and the meaning of home in the Georgian era. She uses diaries, prints, artifacts and other period objects to delve into the period. I was only able to find Part 3 Safe as Houses in full and clips of other parts.
She starts by setting the scene: nighttime in London today is an exciting, energetic place but not so in the Georgian era. Nighttime was dark and threatening. A house breaker could enter over the gate or down the chimney armed and dangerous ready to attack anyone who stood in his (or her) way. Georgians went through great lengths to protect their homes.
Dr. Vickery examines the seamier side of Georgian life. A diary of a well-respected widowed clergyman reveals a secret affair with a maid which deeply troubled his conscience.

She also discusses the plight of women without an independent income. She looks at the diary of a married woman who felt captive in her own home. Due to her husband's increasing jealously, he placed serious restrictions on her movement. She stayed for the sake of her children. Another sad story involved a spinster dependent on her brother for a home. She had no rights at all and was constantly made fun of and was deeply unhappy and lonely. Finally, an inheritance from an aunt allowed her to become independent in her 40s. This story hit home for me, being a single woman without a fortune. It also showed a bit of what Jane Austen's life must have been like before she published her first novel. How liberating it must have been for her to finally have some money all of her own.

This documentary was a bit dull at times, especially when Dr. Vickery was examining locks and anti-burglar devices. History really came alive when she read from diaries. Actors portraying the real people make the stories come to life. I loved seeing both the diaries and the representations of the people who wrote them. I would have enjoyed the first two parts of the series more but they were unavailable. Dr. Vickery is personable and truly seems to love researching the period. Her joy shines through on her face as she shares her research with her viewers. This series makes history more tangible and accessible for the amateur historian.
The Many Lovers of Jane Austen

Despite what the title may sound like, this documentary is about the people who love Jane Austen. It examines her enduring legacy and the reasons why nearly 200 years after her death her books remain so popular. She discusses Jane Austen's fame with noted scholars and public figures such as the Earl of Spencer, whose ancestor Lady Bessbourough was among one of Jane Austen's first fans. Each person interviewed reads an excerpt from one of the novels and scenes of modern readers reading all over the place are shown.
Dr. Vickery tours Chawton cottage and debunks the myth of the shy spinster. She concludes that publishing anonymously was merely a polite convention and that witty Miss Austen enjoyed playing games with people who didn't know she was the author. By the 1820s, the romantic movement ushered in the age of sweeping landscapes as a character which made Jane Austen passe. At the end of the 19th century, Jane Austen came back into print thanks to the invention of train travel. Train stations sold and continue to sell cheap paperback copies of her novels. Jane Austen's nephew also wrote a memoir of his famous aunt that brought her back into public notice. It wasn't until around 100 years after her death that Jane Austen achieved immortal fame. She became the subject of study by a group of intellectuals and professors, the first Janeites, who examined Mansfield Park and the social commentary within. Rudyard Kipling read Jane Austen to his wife and daughter to ease the pain of his only son Jack in World War I. He even wrote a story about soldiers in the trenches enjoying the light escapism of Jane Austen's novels.
Dr. Vickery also looks at the movie versions of Pride and Prejudice, the first being the famous Olivier movie people either love or hate. The scholar explains that this movie was a hit Broadway comedy and it wasn't intended to be a faithful production of the novel. The next movie aired in the 1960s in Britain and was aimed at a juvenile audience. In the 1980s, Jane Austen finally arrived on the BBC (BBC2) in an expensive production, but it wasn't until 1995 when Jane finally catapulted into super stardom. Andrew Davies' sexed up script and Colin Firth in a wet shirt made Jane Austen a household name and created legions of new fans. Since then, Jane Austen has become a brand.
Dr. Vickery traveled to Bath to the Jane Austen festival and to Texas to the annual JASNA meeting where she met ladies in costume; learned Mr. Wickham sends panties to ladies along with his phone number; and shopped for Jane Austen themed tea and souvenirs. Finally, it is concluded that Jane Austen mania has peaked in the West but it just getting started in Asia.
This documentary is fabulous and a must watch for any Janeite. I knew some of the history but this documentary delves much deeper than any biography or blog post I've read so far. I especially liked the visuals - seeing clips of the movies I haven't seen (OK and seeing Colin Firth in a wet shirt again) and seeing the fans dressed in costume.I was a little taken aback at the commercialism of Jane Austen. I don't mind sexed up Jane Austen as long as it's tasteful and within the realm of possibility because I think it introduced new fans to her lovely novels. I enjoy the movies and I adore the novels. I like buying themed gifts and I cherish rare books and academic discussion. I think Jane Austen can be accessible to everyone if they try and if it takes commercialism to do it, then so be it. I think Miss Austen would get a kick out of all the fuss.
Pride and Prejudice: Having a Ball With Jane Austen
Professor Amanda Vickery and art critic Alastair Sooke hosted this 90 minute special which recreated the Netherfield Ball from Pride and Prejudice. The purpose was to uncover the deeper meaning behind the ball and everything that would have gone into it. This was something that Jane Austen's readers would have been aware of but has gotten lost over time. The Netherfield Ball was a private invitation only event to which only the best families in the county would be invited. The hosts take the viewer on a detailed journey to look at period customs, music and food.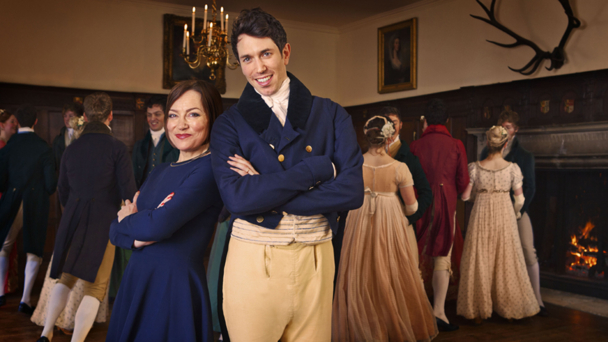 To recreate the ball, a troop of ballet students was recruited to learn several complicated dances. They found it far more difficult and energetic than they expected. The music was chosen from Jane Austen's own music books. Alastair took a look at a manuscript music book that could have been written in Jane Austen's handwriting and even contained a doodle in the margin!
The food was painstakingly recreated from Georgian era recipes, some by Martha Lloyd. The food is quite different from what we're used to. May jellies and ices and alcoholic drinks were served alongside meat and vegetable dishes all at the same time. People could reach across the table and grab whatever they wanted.This type of meal was haute cuisine and would have been very luxurious for the Bennets.
One of the dancers said that it was possible, if you were attuned to someone and they were speaking loudly, to hear what was being said across the table, despite the noise. This verifies what Jane Austen wrote in Pride and Prejudice about Mr. Darcy hearing Mrs. Bennet's conversation.
Clothing and makeup is also examined. The costume designer chose silk taffetas for the wealthy Bingley sisters who would have had their gowns made in London. The more provincial Bennets would make do with a local dressmaker. Elizabeth may have made her own dress, remade from an older one. The costume designer chose a sheer white muslin with embroidery. She gave lie to the myth that some ladies dampened their petticoats for muslin becomes see through when wet. If it happened at all, it was for a very private party. Not even Lydia would be so bold!
Modern electric lights were removed and beeswax candles were made to adorn the small room in Chawton House where the ball was held. As the evening went on, the dancers took on more and more characteristics of the period. They became flirty and high spirited, especially once a new young man was introduced into the mix. They also became very hot under all the candlelight! Amanda Vickery remarked that she found herself watching the men more than the ladies because their calves were easier to see. Dancing well must have been more important for the gentlemen than the ladies because it was a chance for the ladies to check out the gentlemen. I know from my visit to Colonial Williamsburg that this was indeed true. The expression "put your best foot forward" actually comes from dancing. Some gentlemen padded their calves to make them look more muscular and thus more attractive to the ladies. In short, a ball was an elaborate courtship ritual.
In between ball preparations, an actress portraying Jane Austen wrote her novel with her quill pen.
This program is absolutely spectacular! What a labor of love! As a social historian, I thoroughly enjoyed all the historical details revealed through the creation of this ball. I especially liked learning about the food and the music which I have not studied much. I appreciated all the attention to detail and seeing how the food, costumes and lights made the dancers act. Their comments were very interesting and informative. I loved this behind-the-scenes look. It would have been nice to actually see more of the dancing after all that rehearsal. This documentary will appeal to casual Austen fans, amateur historians, social historians and the general public. I highly recommend trying to watch it or read the article from BBC news.