What I Read Last Weekend . . .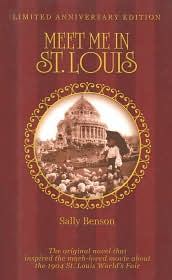 Meet Me in St. Louis by Sally Benson -- Historical Fiction
Like me, you may know and love the 1944 movie starring Judy Garland. The movie was based on short stories by Sally Benson about her childhood in St. Louis. In 1942 the stories were compiled and published in book form as Meet Me in St. Louis.

The book follows the lives of the various members of the Smith family, a well-to-do family in St. Louis in 1903-1904. There's Mother (Anna), Father (Lonnie), Lon (18), Rose (17), Esther/Judy Garland (16), Agnes (12), Tootie (6), Grandpa, Katie the cook and assorted pets and dolls. Rose is the beauty of the family and Esther is described as small, dark, dimpled with a pretty singing voice. Rose and Esther are boy crazy and can't wait to find the right man to marry. They find most of the boys they know boring and prefer a bit more mystery surrounding their crushes. They also crush on matinee idols and heroes. Agnes can be prim and proper but she's also pretty wild. Tootie is bloodthirsty, naughty and completely wild. Her favorite activity is killing her dolls and burying them. The whole city is looking forward to the World's Fair in the spring. The Smiths are a close-knit family and love each other despite their differences.

The book is pretty much like the movie but lacks the charm of the musical numbers. It also lacks the central romance of the movie. Each chapter revolves around a month instead of a season like the movie. There are a few other differences too.