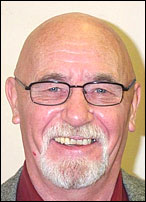 picture from Redwall wiki

Sad news for fans of the wonderful children's writer Brian Jacques. His family has confirmed that he passed away on February 5, 2011. He was the creator of the amazing Redwall series of novels set in a mythical woodland abbey and populated with all manner of woodland creatures who are moved to take up the sword to defend their peaceful home from evil invaders.
He also wrote the Castaways of the Flying Dutchman series based on the legend of the ghost ship.
I had the pleasure of meeting Mr. Jacques one afternoon about ten years ago at a storytelling/book signing event at a bookstore near my home. I had never read the Redwall books though I was aware of them from the library shelves. Mr. Jacques was an entertaining storyteller and told many humorous anecdotes about growing up in Liverpool and other fun stories. He took the time to greet each child in line and personalize an inscription. I picked The Castaways of the Flying Dutchman for my mom's friend's son and headed to the library to pick up the Redwall books. I was surprised by the amount of violence in the stories but I quickly got sucked into the beautiful world Mr. Jacques created. His descriptions are so vivid and characterizations so real, I felt like I was right there in Mossflower Wood. I think I read the entire series in one week and waited eagerly for the next installment. My personal favorites are the ones that deal with the history of Redwall and move backward in time to tell the story.
I'm saddened that the world has lost such a gifted storyteller.